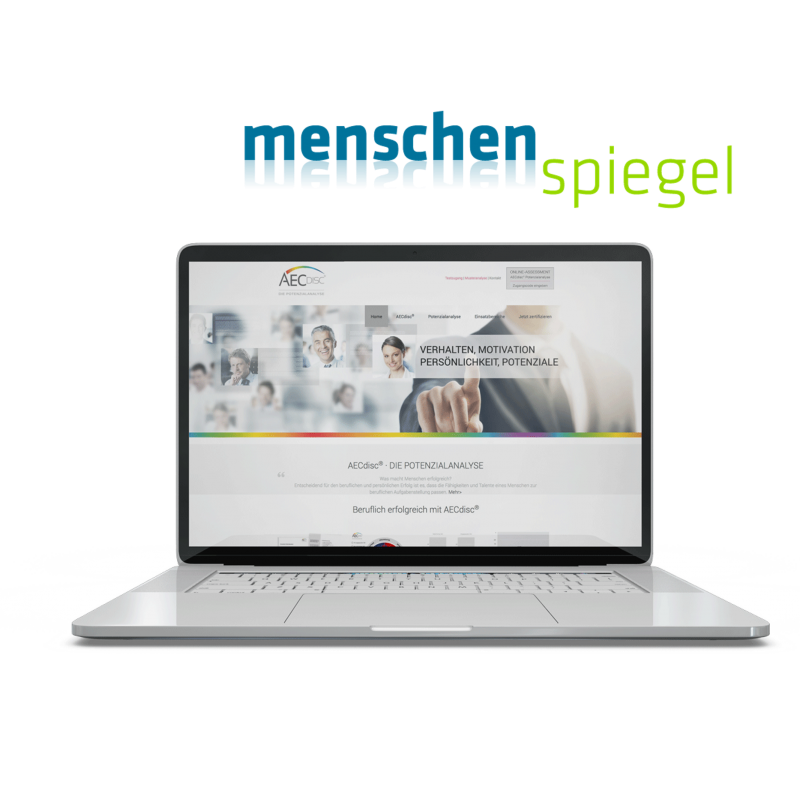  
AECdisc® Potential Analysis
The AECdisc® potential analysis is based on the development of the American Cleaver Company and the AECdisc® methodology, which was developed in France. The survey is based on an online questionnaire developed by psychologists, which takes around 20 to 25 minutes to complete.
In Charge for content and execution: menschenspiegel UG, Dr. Wolfgang Schneiderheinze, Amselweg 15, 63773 Goldbach, +49 6021-4487395, E-Mail: wsd@menschenspiegel.de
The answers to the questionnaire are used to analyze the different manifestations of behavior. A distinction is made between so-called natural and adapted behavior.
The pure consideration of the personality - consisting of behavioral preferences and motivational factors - is a valuable basis for reflecting on behavior and recognizing potential for optimization.
Application areas of the AEC © -disc potential analysis
Personnel development
The analysis supports the targeted development of employees in harmony with the orientation and goals of the company.
In connection with the AEC © -disc requirements analysis, the soft skills necessary to achieve the company's goals can be specifically and job-related defined. A joint evaluation of the talent analysis with the employees creates trust and understanding for training and coaching for developing soft skills.
Coaching
The knowledge of personal strengths, challenges and development potential provides an objective, value-free assessment of the position for individual coaching.
For example career coaching, executive coaching or salesperson mentoring.
Team development
In an atmosphere of trust and appreciation, the analysis of the entire team is an objective basis for understanding points of friction and accepting differences. Problems and conflicts can be discussed in a solution-oriented manner and dealt with together. As part of the division of labor, the inclinations and strengths of the team members can be accepted and taken into account.
Personnel selection
Predictions on soft skills such as behavior, values, motives and talents are processed transparently through the analysis. Job interviews or assessment centers can be prepared and evaluated more precisely.
The selection process is supported by the possibility of comparison with the AEC © disc requirements analysis.
13 other products in the same category:
No customer reviews for the moment.